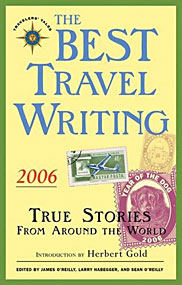 "The virtues of travel have long been touted, and we are all familiar with the cliches. Travel broadens the mind, dissolves dogma, rattles the cage, brings new vigor to the step. It is hilarious, romantic, life-threatening, enlightening, toxic to weak relationships, invigorating to the strong. Travel is tedious and soporific, exhilarating and addictive. It is expensive because evanescent, cheap because the traveler is forever rewarded with memory and story. You wish you were home, you wish you never had to go home. All these things are true, and if you are lucky you may experience each of them on the same trip."
   —Publisher's Preface
For anyone planning to travel abroad or live in a foreign locale, or anyone simply interested in the greater world we live in, The Best Travel Writing 2006—True Stories From Around the World provides more than 25 of the best travel pieces from established and emerging authors. The entertaining and sometimes gripping stories in this collection cover every corner of the globe, from Tibet to Morocco, from Thailand to Mexico to Switzerland and points between.
This anthology, which includes a memoir essay from Christopher Cook in the Czech Republic, is the latest installment in a consistently entertaining series highlighting the adventuresome side of travel.
"Travelers' Tales has thrived by seizing on our perpetual fascination for armchair traveling."
     —The Washington Post