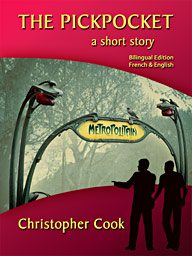 Note de l'auteur, Christopher Cook:
La traduction de ce texte a été publiée en 2004 aux Éditions Rivages, dans un recueil de nouvelles intitulé "Moisson Noire 2004, Les meilleures nouvelles policières américaines, présentées par Michael Connelly", collection Rivages/Thriller, sous la direction de François Guérif et dans une traduction de Pierre Bondil. Elle avait pour titre "Le Pickpocket". Le texte en a été révisé pour la présente édition. Je remercie vivement les Éditions Rivages, François Guérif et Pierre Bondil, qui m'ont autorisé à publier la version française en livre numérique.
In this award-winning short story, a professional pickpocket in Paris recalls the career he chose as a boy, his early training, and remarkable episodes in his working life. He reveals a nostalgia for an earlier era when even pickpockets showed greater respect for the quality of their craft.
This captivating story—after being rejected by numerous literary magazines in the U.S.—won first prize in a literary competition in France co-sponsored by the Sorbonne University and Paris Transcontinental magazine. It later was included in several anthologies, including Houghton Mifflin's The Best American Mystery Stories 2003.
This e-book contains a special Author's Note in which Christopher Cook describes the long, twisting journey of this fascinating story from its creation to its final incarnation on the international stage.
"Le Pickpocket" also is available in an English only edition, "The Pickpocket." You can find information on that edition elsewhere on the website or by clicking on its image in the Amazon panel to the right.
What readers are saying about "Le Pickpocket"—
"Beautiful, lyrical prose plus a tale with twists that make you laugh and make you think. O. Henry would love it!"
"Christopher Cook's grand tale engaged me from the first page… First-rate story telling."
"A finely crafted tale of a life on the street and living by one's wits, the complexities of honour amongst thieves and pride in ones craft, but also a meditation on the process of aging, the inevitability of change, and an evocation of the most visited city in the world."
"A book you will revisit over the years, and one that may take you to Christopher Cook's other fascinating works. Trust me. Buy it."
View details at Amazon
View details at Barnes & Noble