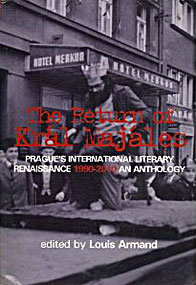 The Return of Kral Majales: Prague's International Literary Renaissance, 1990-2010, An Anthology.
Charles University, Prague
938 pages
With bios of contributors
Prague, the cosmopolitan centre of Europe, has for two decades been at the heart of a multicultural, linguistic experiment without recent parallel. This anthology offers a panoramic view of the various 'scenes' that have defined its literary renaissance—from the widely heralded 'left bank of the nineties' to its post-millenial aftermath.
In 1965, U.S. poet Allen Ginsberg twice visited Prague, Czech Republic, where he discovered he and his poetry had attracted a significant following. Staying at the Ambassador Hotel on Wenceslas Square, Ginsberg met with Czech poets and translators, all of them under constant surveillance by the StB (Czech security police). His second stay coincided with annual May (Majales) Festival. As Ginsberg participated in the public May Day parade and festivities, a large number of assembled university students spontaneously elected him king ("kral") of the festival: Kral Majales. He made a speech dedicating the glory of his crown to Franz Kafka. Within a week, Ginsberg was arrested by the police, held in isolation, and then deported. He was put on a plane headed for London Heathrow Airport.
Twenty-five years later, in 1990, a year after the Velvet Revolution toppled the Czech communist regime, Ginsberg returned to Prague. What he found was a very different place. The subsequent decade saw the city undergo radical and vibrant changes as the people unleashed decades of pent up creative energies. These dramatic changes appeared in all aspects of the culture—architecture, music, theater, film, visual arts, and literature. Thus the title of this remarkable anthology: The Return of Kral Majales.
Included in the collection is a piece by Christopher Cook entitled "The Cyclops," an excerpt from a novel-in-progress.
Details at Amazon (currently unavailable)