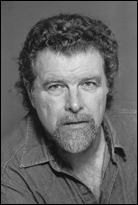 Christopher Cook is the author of the award-winning novel Robbers and the story collection Screen Door Jesus & Other Stories. His most recent book in English, Tiger Ridge – Three Stories, is available online exclusively as an e-book from Amazon and Barnes & Noble.
His other releases include the novellas Storm and Cloven Tongues of Fire, as well as The Pickpocket – A Short Story, all available online in e-book editions. The Pickpocket – A Short Story is also available in a bilingual French-English edition.
His most recent print book publication is Langues de feu, published in French by Editions Payot & Rivage in France.
A selection of his published work for newspapers and magazines, as well as poems and philosophical essays, can be seen by going to the "Other Writing" link in the masthead above.
A native of Texas, Christopher has lived in France, Mexico, and the Czech Republic since 1994. He recently lived for two years in San Miguel de Allende, Mexico, and for two years in Austin, Texas. His permanent residence is in Prague, Czech Republic. His wife is the Czech artist and poet Kateřina Piňosová.
Christopher attended university at Rice University in Houston, Texas, and Macalester College in St. Paul, Minnesota. He studied pre-medicine and took a degree in psychology at Macalester, but afterward pursued a career as a newspaper and magazine journalist, working for publications in Minnesota, Alabama, Georgia and Texas. He subsequently worked as a trade union and human rights activist in the USA and overseas.
He has been writing fiction and screenplays full-time since the mid-1990s. His books are available in numerous foreign editions, and his stories have been included in many anthologies, including Houghton Mifflin's The Best American Mystery Stories 2003 and The Return of Kral Majales (Prague's International Literary Renaissance 1990-2010, An English Language Anthology). His memoir essay "Full Moon Over Bohemia," set in the Czech Republic, was selected for the Travelers' Tales anthology The Best Travel Writing 2006.
Screen Door Jesus has been made into a feature movie. Robbers has been under film option off and on in the U.S. for the past 15 years, both for feature film and TV. It is currently under option by Sony for a possible TV series. To date, however, no one has taken it as far as the screen.
Christopher is now working on another full-length novel.