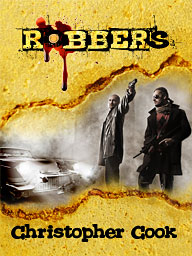 Two drifters on the prowl in a stolen Caddy ragtop. A woman on the run from a killing she couldn't help. And a tough but aging Texas Ranger with a nose for chasing down fugitives. Put them all on the road in a chase across Texas… then watch the mayhem unfold in a twisting tale full of surprises at every turn.
This is the award-winning novel readers say they can't—and won't—put down.
Note: This Special Edition of Robbers has an Author's Preface written specifically for the e-book.
What they are saying about Robbers—
"Robbers remains one of my favorite first novels of the last decade. More, please, sir."
      —Bill Ott, Booklist (Dec. 2008)
"If Elmore Leonard lived in Texas, his name would be Christopher Cook."
     —Kinky Friedman, author of The Mile High Club
"Christopher Cook writes like an angel…I haven't enjoyed a novel this much in years."
     —James Crumley, author of The Last Good Kiss
"My kind of book."
      —James Ellroy, author of L.A. Confidential
"From Elmore Leonard's laconic flair with the dumb and dangerous to James Lee Burke's lyric feel for dark hearts in a New South—Robbers ranges wild and wide, deep through the heart of Texas."
     —Michael Malone, author of Time's Witness
"Classic noir bones… with fearless originality, in a lyric voice that sings itself raw."
     —The New York Times
"An adrenaline bomb of a crime novel… a rhythm that is strictly four on the floor."
     —Los Angeles Times Book Review
"Cook's plot tumbles from scene to scene with jarring brilliance."
     —Publishers Weekly
"A full-tilt boogie of a tale… a book to stay up all night with."
     —The Dallas Morning News
View details at Amazon
View details at Barnes & Noble