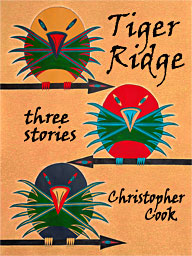 Three powerful new short stories—
"Lafayette Dugas, Bayou Desperado" tells the story of a young 19th century highwayman who preys on the citizens of Baton Rouge.
"The Code" explores the issues of honor, jealousy and betrayal between two men and a woman.
And "Tiger Ridge Trilogy" is the story of a small-town killing narrated in three parts from the points of view of three different characters, each with a unique voice.
"Each of the three stories is distinct and different in tone, but each demonstrates the author's sharp ear for authentic dialogue, evocative descriptive power and the ability to engage the reader in philosophical and ethical discourse in a way that is subtle, engaging and at the same time, entertaining."
       —A Reader
About the award-winning author, reviewers and other authors have written:
"Christopher Cook writes like an angel."
       —James Crumley, author of The Last Good Kiss
 
"…a lyric voice that sings itself raw."
       —The New York Times
"…a master of setting, characterization, dialogue and narrative."
       —The Dallas Morning News
View details at Amazon
View details at Barnes & Noble